Posts for: September, 2014
By Dr. Marvin Ernst General and Cosmetic Dentistry
September 24, 2014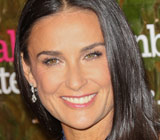 Once upon a time, a well-known Hollywood actress might have hired a private eye to keep unflattering pictures from appearing in the media. Today, that's no longer the case. Take timeless beauty Demi Moore: In a widely circulated set of photos, her gap-toothed grin showed she was actually missing one of her front teeth!
It turns out the actress released the pictures herself, as she live-tweeted the tooth replacement procedure from her dentist's office. Moore later explained that the tooth fell out suddenly as she was sitting at her desk.
Celebrities are just like regular folks… except they have more followers on twitter. So we're happy when they show us that no matter how bad a dental problem may seem, there's almost always a way to regain a gorgeous-looking smile. We're not sure exactly how Demi's dentist chose to restore the damaged tooth — but depending on the individual circumstances, modern dentistry offers a number of ways to close the gap.
A crown (or cap) is a replacement for the entire visible area of the tooth. It may be needed due to accident or trauma, or as a follow-up to root canal therapy. Placing a crown usually requires more than one office visit. First, the tooth is prepared by removing any decay and shaping it, and a precise model is made of the bite. Next, the permanent crown is custom-made in a dental laboratory; this is placed during a subsequent visit. Advances in technology, however, have made it possible in some instances to deliver the permanent crown in a single office visit. If the tooth still has a healthy root structure, a crown is usually a viable option — even when most of the visible part is gone.
What if the entire tooth, including the roots, are missing? Then your replacement options could include bridgework or a dental implant. A fixed bridge is a series of crowns joined together as one unit. The teeth on either side of the gap are prepared just as they would be for crowns, and the bridge (including a replacement for the missing tooth in the middle) is attached. Bridges have been used successfully for many years, but they have a drawback: They require enamel to be removed from the healthy teeth on either side of the gap, which could lead to a greater chance of decay, gum disease, or a root canal in the future.
The optimal solution, however, might be a dental implant. With this remarkable technology, the replacement tooth is solidly anchored into the jaw via a screw-shaped post made of titanium — a metal which actually becomes fused with the living bone tissue. A custom-made, lifelike crown is then securely attached to the metal implant. Dental implants are the most successful tooth-replacement procedure; they help preserve bone quality in the jaw — and with regular care, they can last a lifetime.
So if your smile is making you camera-shy, why not talk to us about your tooth-restoration options? If you would like additional information, please contact us or schedule an appointment for a consultation. You can learn more by reading the Dear Doctor magazine articles "Crowns & Bridgework" and "Dental Implants."
By Dr. Marvin Ernst General and Cosmetic Dentistry
September 09, 2014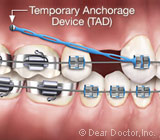 Braces are certainly the most recognized means for moving misaligned teeth. But depending on your or your family member's particular malocclusion (bad bite), your orthodontist may also include other "anchorage" appliances to achieve the best results.
We can move teeth because of a mechanism that already exists in the mouth. The periodontal ligament, which holds teeth in place by attaching the tooth surface to the jawbone, allows teeth to move if needed in response to biting forces or normal tooth wear. Using braces or similar appliances, orthodontists can apply gentle but constant pressure to move teeth to new and better positions.
This applied pressure, however, soon encounters an "equal and opposite reaction," in accordance with Newton's third law of motion. In a way, we're playing tug-of-war with the periodontal ligament — and as in the playground game, the key to "winning" is having the stronger point of resistance, something we call anchorage.
We often use the teeth themselves to establish this anchorage with the help of elastics (rubber bands) attached at various locations in the braces. Sometimes, though, the situation requires a different form of anchorage. In a younger patient, for example, we may want to influence the facial structure's growth and development along with tooth movement. In this case we might use the patient's skull for additional anchorage by having a strap running around the back of the head that attaches to brackets affixed to the teeth.
Another method involves a temporary anchorage device (TAD) directly implanted into the jawbone. We use TADs to isolate teeth we want under pressure from teeth we don't (as with moving front teeth back without causing the back teeth to move forward). Usually made of stainless steel that won't fuse with bone, TADs are relatively simple to remove once treatment is complete. Another form of anchorage is a titanium micro-implant, a miniature version of a dental implant that's also inserted into the bone; like its larger relative, micro-implants fuse with the bone to add greater stability. Their diminutive size, however, eases any difficulty in their eventual removal.
Though some of these appliances aren't visually appealing, they are temporary in nature and only applied for as long as needed. The end result, though, is permanent — beautifully aligned teeth that perform well and look great.
If you would like more information on orthodontic appliances, please contact us or schedule an appointment for a consultation.