Posts for: June, 2014
By Dr. Marvin Ernst General and Cosmetic Dentistry
June 17, 2014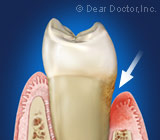 If your gums appear reddish, puffy and bleed easily — especially at the margins where they meet your teeth — instead of their normal pink, you have gingivitis ("gingiva" – gums; "itis" – inflammation). Gingivitis is one of the first signs of periodontal disease ("peri" – around; "odont" – tooth) that affects the tissues that attach to the teeth, the gums, periodontal ligament and bone. Other common symptoms of periodontal disease include bad breath and taste.
If periodontal (gum) disease is allowed to progress, one possible consequence is gum recession exposing the root surfaces of the teeth. This can cause sensitivity to temperature and touch. Another sign is that the gum tissues may start to separate from your teeth, causing pocket formation; this is detectable by your dentist or hygienist. As pocket formation progresses the bone supporting the teeth is destroyed leading to loose teeth and/or gum abscesses. Unchecked or untreated it leads to tooth loss.
Inflammation, a primary response to infection is actually your immune (resistance) system's way of mounting a defense against dental plaque, the film of bacteria that concentrates between your teeth and gums every day. If the bacteria are not removed, the inflammation and infection become chronic, which literally means, "frustrated healing." Smoking is a risk factor for periodontal disease. Smokers collect plaque more quickly and have drier mouths, therefore, cutting down or quitting smoking can reduce the severity of gum disease. Stress has also been shown to affect the immune (resistance) system, so stress reduction practices can help here as well as in other parts of your life. Gum disease can also affect your general health especially if you have diabetes, cardiovascular or other systemic (general) diseases of an inflammatory nature.
Periodontal disease is easily preventable. The best way to stop the process is to remove each day's buildup of plaque by properly brushing and flossing your teeth. Effective daily dental hygiene has been demonstrated to be effective in stopping gingivitis. It sounds simple, but although most people think they're doing a good job, they may not be. Effective brushing and flossing requires demonstration and training. Come and see us for an evaluation of how well you're doing. Regular checkups and cleanings with our office are necessary to help prevent gingivitis and periodontal disease. In addition if you already have periodontal disease you may need a deep cleaning known as root planing or debridement to remove deposits of calcified plaque called calculus or tartar, along with bacterial toxins that have become ingrained into the root surfaces of your teeth.
Gum disease is often known as a silent disease because it doesn't hurt, so see our office for a periodontal exam today.
Contact us today to schedule an appointment or to discuss your questions about gingivitis and periodontal disease. You can also learn more by reading the Dear Doctor magazine article "Understanding Gum (Periodontal) Disease."
By Dr. Marvin Ernst General and Cosmetic Dentistry
June 02, 2014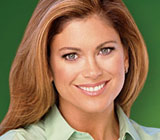 It is not often that you find a celebrity who is willing to speak candidly about any cosmetic or restorative dentistry that he or she has had. Instead, most prefer that their fans just assume that their dazzling "Hollywood" smile is something that just happened naturally. However, that is not the case with Kathy Ireland, the former Sports Illustrated cover girl, current business mogul and founder of kathy ireland Worldwide, a billion dollar marketing and design firm. In a Dear Doctor magazine cover story she talks openly about her dental experiences, injuries and treatment so that people worldwide can understand what may be possible for them.
For Kathy, it happened several years ago when she was playing with her husband and children in their driveway. Kathy decided that she would stand in her children's wagon and surf across their driveway. Instead, she ended up "face-planting," as she describes it, in a freak accident that left her with a broken nose, split forehead and several broken teeth. She recalls that it sounded like a watermelon had smashed. Luckily, her husband, an emergency room physician, was on hand to care for her. Kathy is just as thankful to her cosmetic and restorative dentist who restored her trademark smile with some veneers and a dental implant. Today, the only reminder she has from this accident is a small scar on her nose that she covers with a little makeup.
You would think that this accident would be enough trauma for one person; however, Kathy describes an earlier accident where she knocked out a tooth and then later knocked it loose again. Kathy also wanted to take the time to let readers know that her dental implant experiences were "pretty easy." She did recall, "hearing all the sounds while all of it was going on" and then added, "but I have to tell you, that after being a mom and having kids, going to the dentist...is like going to the spa!" She said that she has even fallen asleep in the dental chair.
To learn more about Kathy Ireland, continue reading the Dear Doctor magazine article "Kathy Ireland." Or if you think cosmetic or restorative dentistry is right for you, contact us today to schedule an appointment to discuss your specific goals.