Posts for: May, 2014
By Dr. Marvin Ernst General and Cosmetic Dentistry
May 16, 2014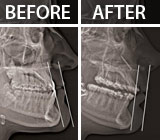 Orthodontics is a specialty of dentistry dedicated to the diagnosis and treatment of misaligned teeth, or malocclusions. The goal is to help patients achieve better long-term oral health by improving teeth alignment. Sometimes, though, the misalignment is much more involved than the position of the teeth — it may be that the jaw structure is also misaligned. In that case, the skills of an oral surgeon may be in order.
The jaws are similar in shape to the arch of a horseshoe, hence the referral to either upper or lower sets of teeth as dental arches. In a normal jaw structure, the lower arch fits just inside the upper arch when you bite down and the teeth are able to function correctly. In some individuals, though, the lower arch closes in front of the upper arch, commonly known as an underbite. If the underbite is only slight, the malocclusion can be corrected by repositioning the teeth only, as with braces. If, though, the underbite is more severe it would require a surgical procedure to realign the jaws, also known as orthognathic surgery.
Orthognathic surgery can help relieve a number of functional complications caused by jaw-related malocclusions: difficulty chewing and swallowing; chronic jaw or head pain; or sleep apnea. It can also enhance the patient's facial appearance by correcting an imbalance between the two lateral sides (asymmetry), or by minimizing a receding chin or protruding jaw.
Its primary benefit, though, is its effect on the patient's bite and tooth alignment. For this purpose, the orthodontist and oral surgeon work together to achieve the best result possible. In some cases, the orthodontist may perform his or her work first by moving teeth into the proper position. This sets the stage for the oral surgeon to perform orthognathic surgery to complete the correction of the misalignment.
Each individual patient's case is different — the best plan of action must begin with a full examination by an orthodontist, and a consultation with an oral surgeon if necessary. It may require time and the expertise of two specialties, but the final result will be better health and a better look.
If you would like more information on various orthodontic procedures, please contact us or schedule an appointment for a consultation. You can also learn more about this topic by reading the Dear Doctor magazine article "Jaw Surgery & Orthodontics."
By Dr. Marvin Ernst General and Cosmetic Dentistry
May 01, 2014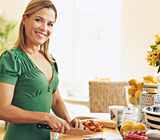 Junk food and between-meal sweets are a habit for many of us, even though we know it is bad for our bodies and our teeth. As adults, we are responsible for our own choices. As parents, we are also responsible for our children's choices, and for teaching them to choose wisely.
Celebrity Chef Cat Cora offers the following six suggestions for leading children to a healthy lifestyle. Cora is a star of Iron Chef America and author of Cat Cora's Classics with a Twist: Fresh Takes on Favorite Dishes, in which she reveals healthier versions of classic recipes. In her remakes she shows how to cook with a lot of flavor while reducing fat and sugar. Cora has four young sons, so her methods are not just theories — they have been practiced in real life.
1. Remember who's the boss.
"My kids have never had fast food," Cora said in a recent interview with Dear Doctor magazine. "The parents have a choice to do that or not," she said. "The kids are not going to the grocery store to shop; the kids are not driving themselves through fast food chains."
2. Make your rules clear and stick to them.
"Right now my 7-year-old tries to be picky, but it's really about us being consistent as parents," Cat said. For example, in her household pizza is served only at the weekly pizza and movie night. The kids get a healthier version of what they want, so they don't feel deprived. The evening includes air-popped popcorn without butter — and no soda, which is bad for teeth because of its sugar and other chemical ingredients.
3. Offer your children a variety of foods and tastes.
Cora made sure her children tried different foods and spices from infancy, so they are open to trying new things. It's easier to get all the nutrition you need if you eat a wide variety of foods.
4. Learn to make tasty substitutions for sugar.
When her children were babies, Cora stopped relying on bottles and sippy cups as soon as possible, reducing her children's likelihood of developing tooth decay due to sugary residues remaining in their mouths. Now that they are older, she uses tasty substitutes for sugar such as fruit purees and the natural sugar substitute Stevia.
5. Include the children in meal planning.
Kids are more likely to eat a meal they are involved in planning and cooking. For example, ask them which vegetable they would like to have (not whether they want to have a vegetable).
6. Model healthy behavior for your kids.
Parents are the best role models. This is true not only for food choices, but also for exercise and maintaining a healthy lifestyle.
Contact us today to schedule an appointment to discuss your questions about oral health. You can also learn more by reading the Dear Doctor magazine article "Cat Cora."