Posts for tag: periodontal disease
By Dr. Marvin Ernst General and Cosmetic Dentistry
April 24, 2015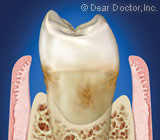 Periodontal gum disease is a relentless enemy to dental health that destroys gum tissue and the teeth's attachment to the jaw. As it ravages these tissues it often creates periodontal pockets, hidden spaces between the teeth and bone that fill with infectious bacteria capable of accelerating damage to teeth and gums.
The primary treatment goal for gum disease is to create an environment that is cleansable below the gum tissues, in order to remove as much bacterial plaque from the tooth, gum and root surfaces as possible. Periodontal pockets pose a challenge to this goal as they are extremely difficult to access using standard cleaning and root planing techniques the deeper they become. Cleaning and treating these deep pockets, however, is made easier with a procedure known as periodontal flap surgery.
This procedure is not a cure, but rather a way to access the interior of a periodontal pocket to remove infection and diseased tissue. In effect, we create an opening — like the hinged flap of a letter envelope — to gain entry into the affected pocket. Not only does this opening enable us to clean out infection within the pocket, but it can also facilitate cleaning the tooth's root surfaces.
It also provides an opening for us to insert grafting materials to regenerate lost bone and tissue. It's nearly impossible for this tissue regeneration to occur if bacterial infection and inflammation persist in the affected area. Periodontal flap surgery provides us the critical access we need to effectively remove these contaminants that stymie healthy growth.
This procedure is normally performed with local anesthesia and usually results in little bleeding and minimal post-operative effects. Once we have finished any procedures to clean the pocket and other affected tissues, or installed grafts for future bone and tissue growth, we would then seal the flap back against the tooth using sutures and gentle pressure to promote blood clotting around the edges. We might also install a moldable dressing that re-secures the edges of the flap to their proper position and prevents food debris from interfering with healing.
Periodontal flap surgery is the result of years of research to find the best techniques for treating gum disease. It's one of many weapons in our arsenal for winning the war against decay and gum disease, and helping you realize a healthier dental future.
If you would like more information on periodontal flap surgery, please contact us or schedule an appointment for a consultation. You can also learn more about this topic by reading the Dear Doctor magazine article "Periodontal Flap Surgery."
By Dr. Marvin Ernst General and Cosmetic Dentistry
June 17, 2014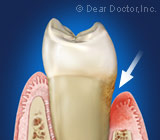 If your gums appear reddish, puffy and bleed easily — especially at the margins where they meet your teeth — instead of their normal pink, you have gingivitis ("gingiva" – gums; "itis" – inflammation). Gingivitis is one of the first signs of periodontal disease ("peri" – around; "odont" – tooth) that affects the tissues that attach to the teeth, the gums, periodontal ligament and bone. Other common symptoms of periodontal disease include bad breath and taste.
If periodontal (gum) disease is allowed to progress, one possible consequence is gum recession exposing the root surfaces of the teeth. This can cause sensitivity to temperature and touch. Another sign is that the gum tissues may start to separate from your teeth, causing pocket formation; this is detectable by your dentist or hygienist. As pocket formation progresses the bone supporting the teeth is destroyed leading to loose teeth and/or gum abscesses. Unchecked or untreated it leads to tooth loss.
Inflammation, a primary response to infection is actually your immune (resistance) system's way of mounting a defense against dental plaque, the film of bacteria that concentrates between your teeth and gums every day. If the bacteria are not removed, the inflammation and infection become chronic, which literally means, "frustrated healing." Smoking is a risk factor for periodontal disease. Smokers collect plaque more quickly and have drier mouths, therefore, cutting down or quitting smoking can reduce the severity of gum disease. Stress has also been shown to affect the immune (resistance) system, so stress reduction practices can help here as well as in other parts of your life. Gum disease can also affect your general health especially if you have diabetes, cardiovascular or other systemic (general) diseases of an inflammatory nature.
Periodontal disease is easily preventable. The best way to stop the process is to remove each day's buildup of plaque by properly brushing and flossing your teeth. Effective daily dental hygiene has been demonstrated to be effective in stopping gingivitis. It sounds simple, but although most people think they're doing a good job, they may not be. Effective brushing and flossing requires demonstration and training. Come and see us for an evaluation of how well you're doing. Regular checkups and cleanings with our office are necessary to help prevent gingivitis and periodontal disease. In addition if you already have periodontal disease you may need a deep cleaning known as root planing or debridement to remove deposits of calcified plaque called calculus or tartar, along with bacterial toxins that have become ingrained into the root surfaces of your teeth.
Gum disease is often known as a silent disease because it doesn't hurt, so see our office for a periodontal exam today.
Contact us today to schedule an appointment or to discuss your questions about gingivitis and periodontal disease. You can also learn more by reading the Dear Doctor magazine article "Understanding Gum (Periodontal) Disease."